Alaska is the largest state in the US. In fact, if you cut Alaska in half, you would still get a larger territory than Texas, the runner-up in this top. Funny thing: while it's the largest state, it also has the lowest population density in the country. Most Americans associate it with freezing winters, polar bears and sled dog races. Alaska certainly does not fail to deliver. In the summer, in Alaska, the sun never sets due to the Arctic Circle. It's called the Midnight Sun and it happens in very few places, so enjoy it while you can!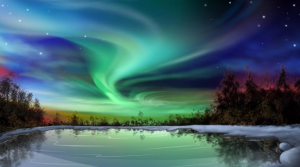 The people here will guarantee you a pleasant trip. They are friendly, very open-minded and incredibly informal. The dress code for most of the events is completely arbitrary, so don't bother trying to impress: nobody will notice. And if you think they live in igloos, wrong again. It's true though people here like fishing or hunting and they love Iditarod. Iditarod is an annual dog sled race and it's famous throughout the whole country. Other things Alaska is reputed for are oil reserves, lumber, fish, gold mines and wild nature. Alaska has many sites with untamed, unaltered landscapes, including the infamous polar bears. More known than its winter attractions is a giant Santa Claus that takes about 20 gallons of paint to be properly kept.

The state is a great place to get familiar with America's national emblem: the bald eagle. Besides, a number of humpback whales live in the Glacier Bay. Many testimonies of Aleuts and Tlingits (Indian Natives) speak of the Russian colonization, such as the totem poles, the Chilkoot Trail or Russian's Bishop House in Sitka National History Park. A trip to Alaska wouldn't be complete without a thorough exploration of its mountains (especially Aniakchak Crater) or glaciers. The Million Dollar Bridge in Cordova crosses the river and offers amazing landscapes.