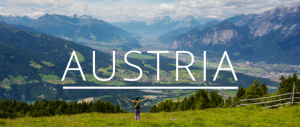 One of the things Austrians are most well-known for is their musical talent, many of the most appreciated classical music composers like Joseph Haydn, Wolfgang Amadeus Mozart, Franz Schubert, Franz Liszt, Johann Strauss, Gustav Mahler or Anton Bruckner being from Austria. The locals are also known for their love of the outdoors, especially enjoying mountainous landscapes and practicing sports like skiing, rock climbing or cycling.
The way Austrians view themselves differs greatly from the way they are perceived by foreigners. People who visit the country tend to see the locals as very conservative and prudent, sometimes even grumpy, because of the Austrians' high regard for following social etiquette. Being very organized in their lifestyle, they like to entertain in formal dinner settings, with invitations for the party being given weeks in advance. The Austrians, on the other hand, see themselves as very family-oriented, greatly valuing domestic life, constantly looking to improve their homes through rebuilding, repairing, refurnishing or extending their houses as well as their gardens.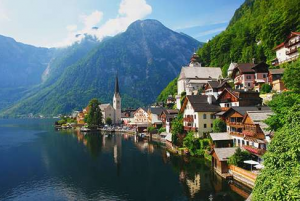 Taking proper etiquette and formalities very serious, the use of old-fashioned good manners impresses in a social situation. It is also important to keep a low tone of voice in public, talking loudly, especially in a foreign language, being considered rude or even aggressive. Also, it is polite to greet the staff when entering or leaving a public place, saying hello and goodbye. Another interesting instance involving the use of etiquette is when one's glass of wine is empty, one can pour himself another one but only after all of the other people at the table have been asked if they would like another glass as well. In Austria it is common for dogs to go every place their owner goes to, like shops, restaurants, movie theatres or bars, unless it is stated otherwise at the entrance.
One of the country's best places to visit are the Austrian Alps, covering about 62% of its territory and standing at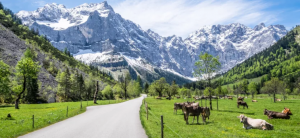 3797 meters tall in Großglockner peak (Austria's highest mountain). The mountains are of amazing beauty, the perfect place for any wildlife lover, where one can take part in numerous diverse activities, including hiking or practicing winter sports. One of the largest and most beautiful cities one can visit in the Alps is Innsbruck, the capital of Tyrol region, a city best known for its sky resorts and alpine sports which can be practiced.
Another must-see location in Austria is the historical city of Pinswang in the Ausserfern region. The village has a population of about 430 residents and is one of the oldest settlements of the area, the first evidence of inhabitance dating back to the year 1700 BC. The main attractions of the city are the medieval fortress of "Schloß im Loch", the ancient roman road "Via Claudia Augusta", the Baroque Church of St. Ulrich or the mountain refuges and inns in the area, like Säulinghaus, Füssenerhütte or Otto-Mayer-Hütte.