Have you seen or heard of the special plastic bags that keep your fruits and vegetable fresh for a long time?
There are few products like that on the market and I've been eyeing them for some quite time….you know me…..big skeptic over here….
Well, recently I got the opportunity to try and review Clearly Fresh Bags…..
….no….I did not buckle down under the pressure of advertising or my dad telling me to buy some and let him know…..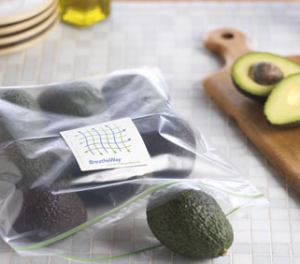 This time I was given a package of 10 FREE Clearly Fresh Bags from the wonderful people at Clearly Fresh Bags (how did they know my desire of wanting to try them?)…..with one condition…..TRY IT……write HONEST review about the product.
Somehow the word got around and my mom and dad were on my doorsteps begging (OK, I made them do it) to give them some Clearly Fresh Bags to try as well…..
Last 7 days we have been busy trying Clearly Fresh BAGS on all the produce we have around and this is the scoop:
Clearly Fresh® bags are large clear ziploc like bags (12" X 14"), but with a breathable 3 inch square on one side that is known as the BreatheWay® membrane.
The BreatheWay® membrane acts as Oxygen/Carbon Dioxide passageway, which allows the correct amount of oxygen in while letting more carbon dioxide out.
By using Breath-away technology Clearly Fresh bags provide the ideal atmosphere for naturally extending storage life by slowing the dehydration of fresh fruits and vegetables.
Clearly Fresh® bags are REUSABLE and RECYCLABLE.

We tested Clearly Fresh® bags on bananas…..lettuce….blueberries….and…..carrots.
Clearly Fresh bags CLAIM they can extend the shelf life of fresh fruits and vegetables by up to 50%.
…..Guess what?……they truly can…..as long as you follow simple instructions.
Place fresh….dry…..uncooked produce into the bag
Do not mix varieties of produce
Gently push out some air
Zip the Clearly Fresh® bag closed and store as usual
As far as I am concerned…..and of course my dad who's been wanting them (but was too cheap to buy them himself)….we love using our Clearly Fresh® bags and would highly recommend them to anybody.
Have you tried Clearly Fresh® bags, yet? What is your experience using them? I wanna know?
*For this review I received 10pack of Clearly Fresh® bags as the only compensation for my honest review. All opinions are mine and mine only!