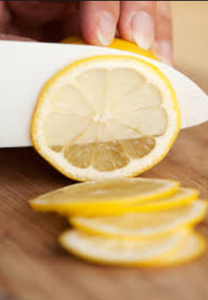 Decorating cakes and desserts is one of my passions…..I am not a professional by any means, but I do love the challenge and learning.
As much as I love working and experimenting with fondant…..chocolate or gum paste…..I love decorating my desserts with fresh garnishes….
One of my favorite fresh garnishes are Candied Lemon Chips (or orange chips).
Candied Lemon Chips add beauty, fresh look & special touch to anything from cheesecakes…..granitas…..parfaits….
The best part….super easy and quick to make.
How To Make Candied Lemon Chips:
STEP 1: In a saucepan cook together 1/2 cup of sugar and 1/2 cup of water until sugar is melted and you'll have clear syrup. Allow it to cool.
STEP 2: Wash, dry and thinly slice 2 or 3 lemons. Remove all the seeds.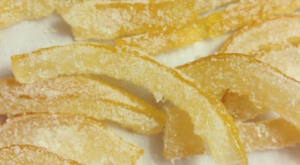 STEP 3: Put all lemon slices into the saucepan with syrup.Make sure each lemon slice is coated on both side. Gently remove coated lemon slices with fork. Place them on a cooling rack inside jelly roll pan and allow them to drain.
STEP 4:Turn oven broiler on high. Place pan with lemon slices on medium rack under the broiler. Broil for 4 minutes on each side or until lemon slices turn into golden brown lemon chips.